Civic-minded panhandler warns passing drivers of tire-popping potholes near cemeteries | Entertainment/Life
5 min read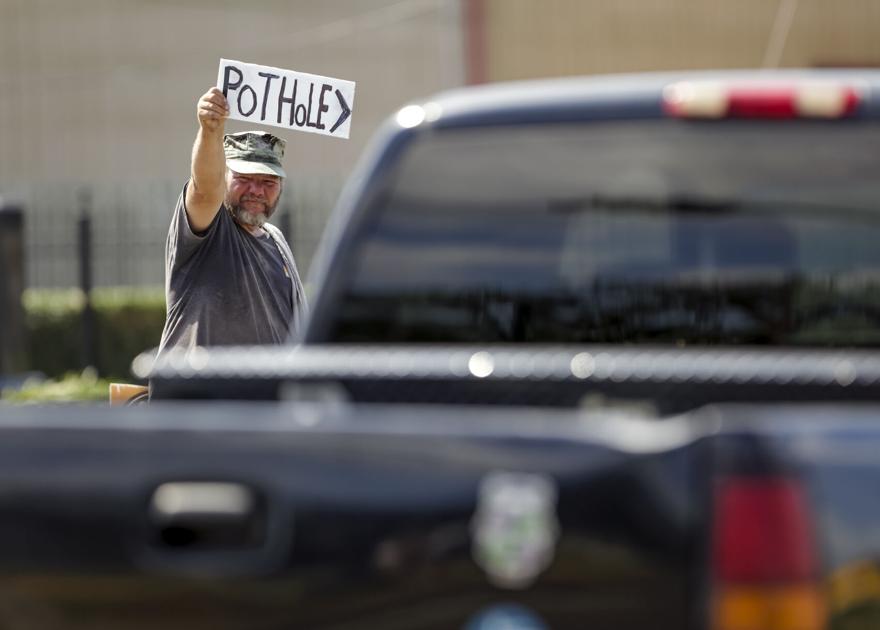 The intersection of City Park Avenue and Canal Street is one of New Orleans' busiest. Countless cars roll through the traffic knot each day from four compass points. Drivers headed west might well run into a teeth-jarring surprise, when their tires suddenly drop precipitously into a pair of treacherous, water-filled potholes.
The hazard, on City Park Avenue in the righthand lane that leads toward Interstate 10, isn't marked by traffic cones or signage. It's a driver beware situation.
That sort of scene is commonplace in the Crescent City, of course, where the roadways are more or less a moonscape of craters and crevasses. But what is unusual is that, on City Park Avenue amid the cemeteries, a deeply suntanned dude who calls himself Crash has set out to do something about it.
Anyone who passes through the intersection regularly knows Crash. He's the guy wearing a military-type cap who tightrope-walks the narrow City Park Avenue median, holding a corrugated plastic sign requesting spare cash from drivers paused at the stoplight. Crash has been pacing that thread of land long enough to have worn a gully in the dirt that, he says, can be seen on Google Earth.
Crash said the term for what he does is "flying," because you "fly" your sign, like you fly a flag. For the past week or so, he's flown two signs. One solicits donations with the words: "U.S. Marine Corps Veteran, doing my best to get through these troubled times. Anything helps. Semper Fi."
The other reads "PoTHoLE," followed by an arrow. Crash waves his warning sign at motorists who may not be aware of the impending pair of potholes. If you stand at the side of the road and watch, you'll see drivers take notice of Crash's pothole sign and suddenly slow way down or juke out of their lane to avoid the hazard, the way Alvin Kamara avoids tacklers.
Mostly, Crash lets his pothole sign dip downward at an angle, so the arrow points toward the street where the gaping voids in the pavement lie. But he jabs his sign insistently toward commuters zooming by in apparent obliviousness. Most get the message. Some don't, hitting the holes with an alarming clunk as water sprays the sidewalk.
Passing drivers often nod or wave in thanks in appreciation of Crash's caution. But they don't generally give him handouts. Because they can't.
Here's why. Lots of eastbound City Park Avenue drivers get caught at a stoplight, which gives the generous among them a chance to hand Crash a buck or two as he paces the median, before they pass by. But the westbound drivers, who are accelerating toward the treacherous twin potholes like ships sailing toward an uncharted reef, can't easily stop. They pretty much have to pass Crash by.
That's the thing. If you watch for a while, you'll conclude that Crash doesn't seem to be doing it for the money. It just seems to be his modest contribution to the greater good.
"I take a pay cut because of this," Crash said. Sure, he said, one guy pulled over to the curb after seeing his PoTHole sign in order to give him $1.50 for his good works. But's that's the exception.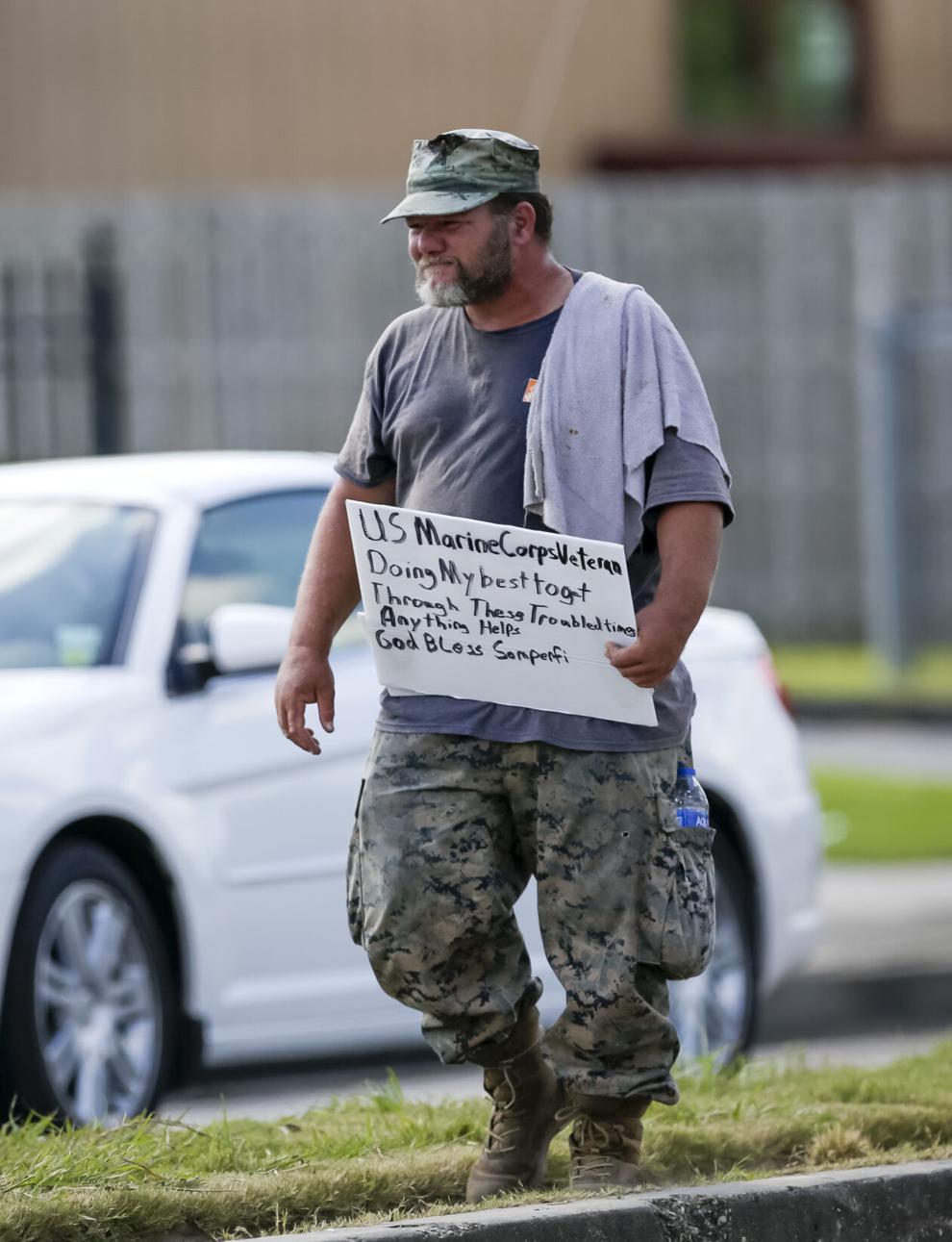 So why has Crash made himself into a sort of pothole lighthouse?
"By doing this," he said, "I feel like it's my way of giving back."
Broken concrete and rusty rebar can be seen at the bottom of the deepest of the two cavities. Crash said he's witnessed the tires on several cars flattened by the impact. "You want to see somebody hit it," he asked one sunny afternoon, "just let me put down my sign."
Elliot Waits, who lives not far away and navigates the intersection regularly, said the potholes have been there since before Hurricane Ida, and he's seen four cars pulled over under the highway overpass with tires flattened. Once, he said, he heard a tire blow. "It sounded like a giant balloon popping," he said.
Elliot said that in his view, the cemetery potholes are just one of many examples of the "city's crumbling infrastructure."
"I think it's admirable that he's doing this," he said of Crash's warning.
Elliot's dad Randy, who rides a big Honda motorcycle, said that as he waited for the City Park Avenue stoplight not long ago, Crash told him that he'd seen a vintage BMW cycle hit the notorious holes and bust both heavy-duty aluminum wheel rims. According to Crash, the cyclist predicted it would cost him 900 bucks to replace them. Randy said he doesn't doubt it.
Crash said he's picked up 19 hubcaps from around the potholes. He leans them against the cemetery fence where drivers might be able to come back and spot them. Once, he said, Sewerage & Water Board workers — or maybe some other city agency — stopped by for a look. But nobody's taken action yet.
There's a suspension-slamming pothole in Lakeview that's haunted by an umbrella-bearing ghost second-lining among the traffic cones.
Crash doesn't share much about himself. He said he's 42, was born in the Carolinas, served in the Marines, is vaccinated and loves New Orleans. His real first name is Steve, but he declined to share his last name. Medical issues landed him in his current predicament, he said, having to ask drivers for money to make ends meet.
About 80% of passing motorists are "decent" to him, Crash said. Ten percent don't want to believe that troubled times can befall anybody and blame him for his situation. And another 10% are "just plain hateful."
"You'd be surprised how little I make," he said of his income from drive-by donors. "When I get what I need, I stop. I make my quota and I go."
Crash joked that he hopes his act of civic-mindedness doesn't raise expectations. He laughingly said he doesn't want people to think he's a nice guy, "because then you have to do it all the time." 
Dave Ecklar's attempt to protest the city's pathetic sanitation situation by dumping a truckload of garbage at City Hall was pretty much a com…
Mayor LaToya Cantrell and New Orleans' top health official told leaders of many of the city's 34 parading organizations Thursday that the city…

https://www.nola.com/entertainment_life/article_fe1c351e-2a24-11ec-813f-4bbe5d3bae05.html