Date'd Nutrition wins Laine Business Accelerator competition | News
3 min read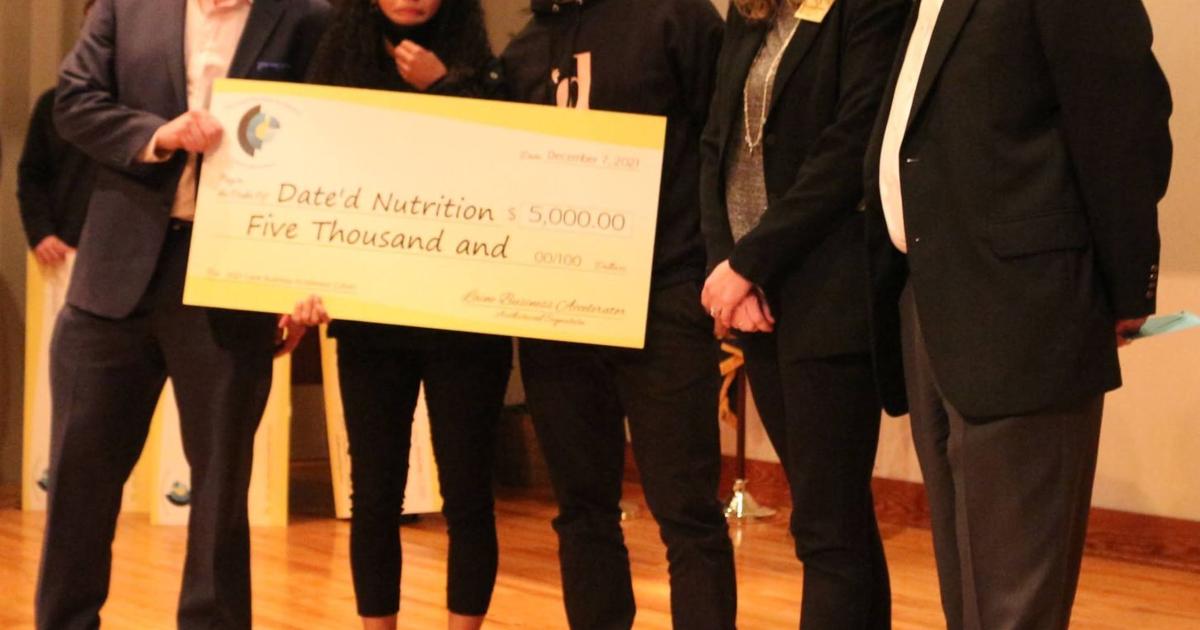 OLEAN — Date'd Nutrition, an Olean business that makes nutritious organic snack foods, won the inaugural Laine Business Accelerator's Community Showcase at JCC's Cutco Theater Tuesday night.
The company, founded by Sarah Hegedus and Jason Wright, received the $15,000 top prize in the entrepreneurial competition. They are marketing nationally in the frozen food section of markets. Their healthy organic products are gluten-free and sugar-free and include dates, hence the name.
Date'd Nutrition owners plan to use their winnings to purchase new machinery to increase production of their products. Wright said they have projected annual earnings of $500,000 with new equipment.
Hegedus said she wants the company to be part of Olean's revitalization. "Imagine what we can do with the Erick Laine Business Accelerator prize," she said.
The business will move from their current small quarters to the kitchen at Jamestown Community College's Olean Campus, Hegedus said.
Wright promised that the business would support the Laine Business Accelerator's program to help other start-ups.
Each of the four other businesses making their pitch for the top prize received $5,000. They are:
• Deon Gayton's Go To Meals, producing healthy meals when you don't want to cook.
• Hi-Y Farms, Little Valley, owned by the Golley family. The farm grows industrial hemp and has begun to market hemp-based products through the New York State Hemp Pilot Program.
• Studio 4 East of Allegany, owned by Mark Riordan and Kara Fortuna. They are the new owners of the Allegany custom apparel store.
• Paragon Behavioral Health Services, owned by Kryn McClain, DHA, LPC and Paulina Colonna, LMFT. The company provides mental therapy and autism services at Olean and two Pennsylvania locations and is looking to expand.
The competition began in August when five businesses were selected to take part in the Laine Business Accelerator program to help sharpen their marketing, product development and management skills.
When the Laine Business Accelerator named its five finalist businesses in late August, the goal was to make an impact on our community by helping leaders of each business sharpen their marketing, product development, and management skills, according to director Tom Cullen, director of St. Bonaventure University's Innovation Center.
Jack Greco, co-founder of ACV Auctions, a 43 North winner, and former director of Techstars Buffalo, spoke of the benefits of mentoring start-up businesses. Greco was one of four judges of the competition.
The accelerator is a partnership of local executives, entrepreneurs, Olean Business Development Council, and St. Bonaventure University and Jamestown Community College. The program organized weekly workshops and mentorship meetings for the five businesses' owners.
Students from St. Bonaventure University helped the businesses build their brand and increase social media presence.
Dr. Daniel DeMarte, Jamestown Community College president, spoke to the audience of about 100 people, thanking James Stitt Sr., for his vision of the local aid to entrepreneurship and the resources from the Cutco Foundation to create the Erick Laine Business Accelerator.
DeMarte asked how to leverage the program to have an even greater impact. "Are we prepared for the next opportunity?" he asked.
https://www.oleantimesherald.com/news/dated-nutrition-wins-laine-business-accelerator-competition/article_75923b23-f74b-5af8-a0fa-22cf67bf486f.html