Former gas station adds to Mount Jackson's downtown renovations | Nvdaily
3 min read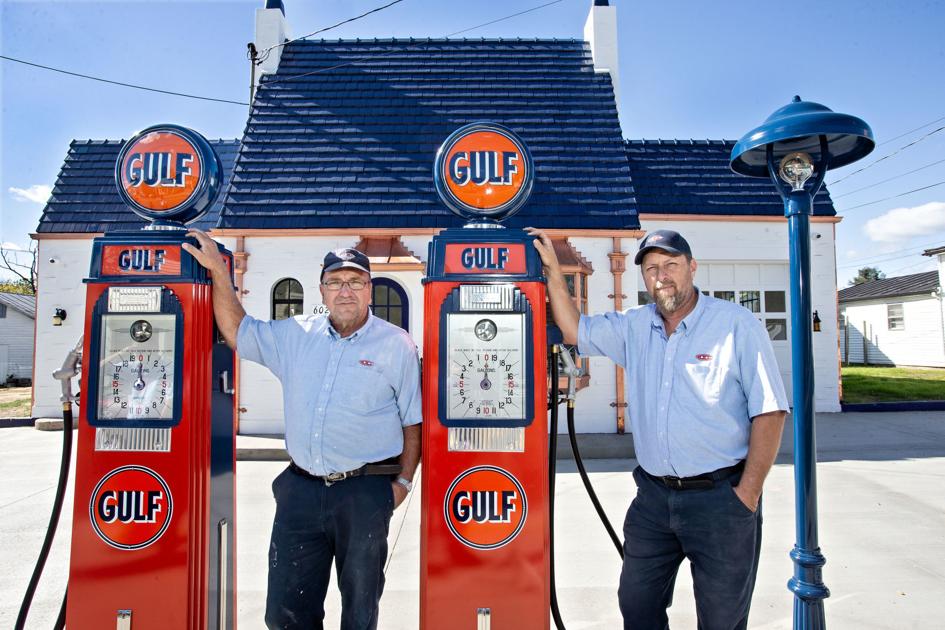 MOUNT JACKSON — At first glance, a restored property at 6023 Main St. looks like a 1950s-era gas station.
"What a transformation," said Anita Richard, assistant project manager on the renovation. "It's like stepping back in time."
The first things people might notice are the bright red ornamental gas pumps and blue street lamps. They might also marvel at the cottage-style whitewashed brick building with its copper awnings, gutters and rain spouts.
Though travelers might mistake it for a gas station, don't be fooled by the large circular Gulf sign out front, said Todd Holtzman, whose company manages the property.
"Gulf is no longer in existence," he said.
The major global oil company, which started in 1901, merged with Standard Oil of California as of March 15, 1985.
Instead, he said, the property will soon house a flower and gift shop, Vase and Vine, owned by Jennifer Phillips, of Timberville.
"They've already taken possession of the building," Holtzman said.
He chose the Gulf theme while renovating the abandoned property because his family was in the Gulf business for many years and he has a collection of Gulf memorabilia.
"That's an original sign," he said. "The pumps are reproduction."
The building's facade was restored to honor its history as the location of a longtime Pure gas station, Holtzman said.
The structure dates to the late 1930s and the Pure station operated for at least 50 years, he said.
After that, it remained vacant for probably three decades, he said.
Asked why no other gas stations moved in, Holtzman said the gas station model in America has changed. Now, most stations include convenience stores, which the Mount Jackson structure didn't allow for.
"As time went on, the world changed," Holtzman said.
While restoring the property, his team kept as much as they could, maintaining the original roof, copper details and stylized white exterior brick, while stripping off interior paint to reveal the original white and teal wall colors.
The cottage style is typical of the Pure brand during the '30s and '40s, he said. It was designed with a cottage feel to fit into residential areas.
Holtzman's team mainly focused on cosmetic restoration. They repoured the parking lot, he said, and "made it very much like it was when it was originally built."
The building also features garage doors on either side and its original windows and glass.
The project is the latest completed by Holtzman's business, Twin Trees, which has restored and renovated several other vacant and rundown properties in downtown Mount Jackson, most of them on Main Street.
"I've taken an interest in Main Street the last 15 years or so," he said. The structures were all "in need of attention or restoration."
Holtzman, whose family runs Holtzman Propane, said he named his restoration business for the first property he bought and restored.
Twin Trees was the name of a Queen Anne-style house on the south end of town that dates to about 1880, according to the website shenandoahstories.org/items/show/116, maintained by Shenandoah County Library.
"Eventually the site became known as 'Twin Trees' due to the existence of two large buckeye trees in the front yard," the story, co-written by the Mount Jackson Museum, explains.
The property was a bed and breakfast during the '20s and '30s and has been restored as a private residence.
Twin Trees LLC is a property management company, a sister company to Holtzman Corp. Services, which includes oil, propane, gasoline, HVAC, lubricants, transport, construction and a Hazmat spill response team, according to the company website, holtzmancorp.com/services.
Some of the properties Twin Trees restores are commercial businesses, while most are residential rental properties like apartment buildings and single-family homes.
Holtzman and his team usually look for neglected properties with history, sometimes receiving requests from property owners.
"A lot of these are taken back from historical pictures," he said.
It's a "point of hometown pride," he said.
"One of our goals is to draw interest and to rejuvenate downtown Mount Jackson. It's such a lovely place to live."
For information on Twin Trees LLC, visit facebook.com/twintreesllc or call 540-253-1575.
For more information on Vase and Vine, visit facebook.com/VaseNVine or email [email protected]
https://www.nvdaily.com/nvdaily/former-gas-station-adds-to-mount-jacksons-downtown-renovations/article_84cd416c-b87b-5e90-a569-33b5f4358687.html