Four Things Missing From the New Hyundai IONIQ 5 Battery-Electric Vehicle
3 min read
The new IONIQ5 is a five-passenger battery-electric vehicle marketed by Hyundai as a crossover utility vehicle. It has been met with almost unanimous acclaim by EV enthusiasts and reviewers. Many of the reviews simply gush, saying this vehicle is a game-changer for the industry. We've driven it, and we do like it quite a bit. We'll reserve our judgment on how much it changes the market until after we see how many Hyundai delivers this coming year.
Related Story: Tesla Model Y Costs You 50% More Than Hyundai IONIQ 5
The IONIQ 5 has some fantastic segment-leading features that add up to real-world benefits. For example, its head-up display (available on the Limited trim) is the best we've ever seen in any vehicle from any brand. The interior rivals the Ford Mustang Mach-E for best in segment, and we feel that no manufacturer offers a better warranty and included maintenance package than does Hyundai. But the IONIQ 5 is missing some things you can get right now in other green vehicles. Here is our list.
Missing IONIQ 5 Content #1 – Hands-Free Driving Assistance
Hyundai has outstanding driver-assistance and active safety features. However, the Chevrolet Bolt EUV offers Super Cruise, which allows for hands-free highway operation. We've tried it, it works, and you will love it if you give it a try yourself.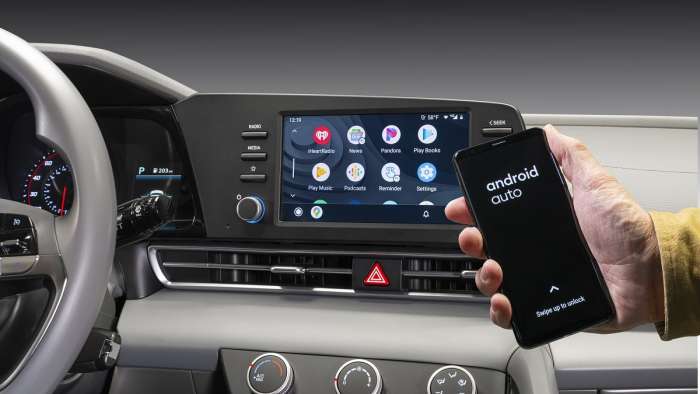 Missing IONIQ 5 Content #2 – Wireless Android Auto and Apple CarPlay
Although many reviewers label the IONIQ 5's infotainment technology class-leading, we don't agree. The screens and the head-up display are really sweet. However, one must use a cable to pair a phone for Android Auto and Apple CarPlay integration. What we find most shocking about this omission is that wireless Android Auto and Apple CarPlay are standard on the base Hyundai Elantra SE. The Ford Mustang Mach-E has wireless Android Auto and Apple CarPlay. We've tested it in the Mach-E (as well as scores of other vehicles), and it works great. The irony of the IONIQ 5's setup is that there is a wireless phone charger. Which you don't need since your phone will be plugged in.
Missing IONIQ 5 Content #3 – Spare Tire
Many manufacturers are moving away from including a key safety feature. They are deleting the spare tire. This is a trend we see particularly in some green vehicles. Hyundai's hybrids often lack a spare, its BEVs all lack a spare, and even some trims like its Kona Ultimate lack a spare. Spare tires are included in green crossovers like the plug-in hybrid-electric Toyota RAV4 Prime and Audi e-Tron.
Related Story: Myth Busted – Spare Tires Don't Reduce Electric Vehicle Range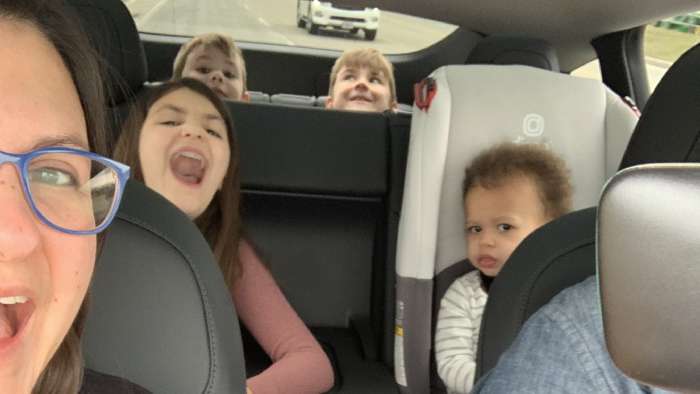 Missing IONIQ 5 Content #4 – Compact Third Row Seating
The IONIQ 5 is not large enough to incorporate compact temporary-use third-row seating. It is one example of the smaller form factor of this CUV. You can get a third-row seat in the Tesla Model Y, and many owners who opted for it find that it meets their needs. The plug-in hybrid-electric Kia Sorento PHEV and the upcoming Mitsubishi Outlander PHEV both offer a compact third-row standard.
Related Story: Are Third Row Seats the Death Trap Some Think They Are?
Hyundai's new IONIQ 5 is an exciting new player in the rapidly-expanding green crossover utility vehicle market. It brings new levels of refinement and technology to the class. However, Hyundai's IONIQ 5 also lacks some important features that we look for in green crossover utility vehicles.
Hyundai IONIQ 5 images by John Goreham. Wireless Android Auto image courtesy of Hyundai. Spare tire in Toyota RAV4 Prime image by John Goreham. Tesla Model Y third-row seat image used with permission of Shannon L.
https://www.torquenews.com/1083/four-things-missing-new-hyundai-ioniq-5-battery-electric-vehicle