Go To Meals seeks top prize in Lane Business Accelerator competition | News
2 min read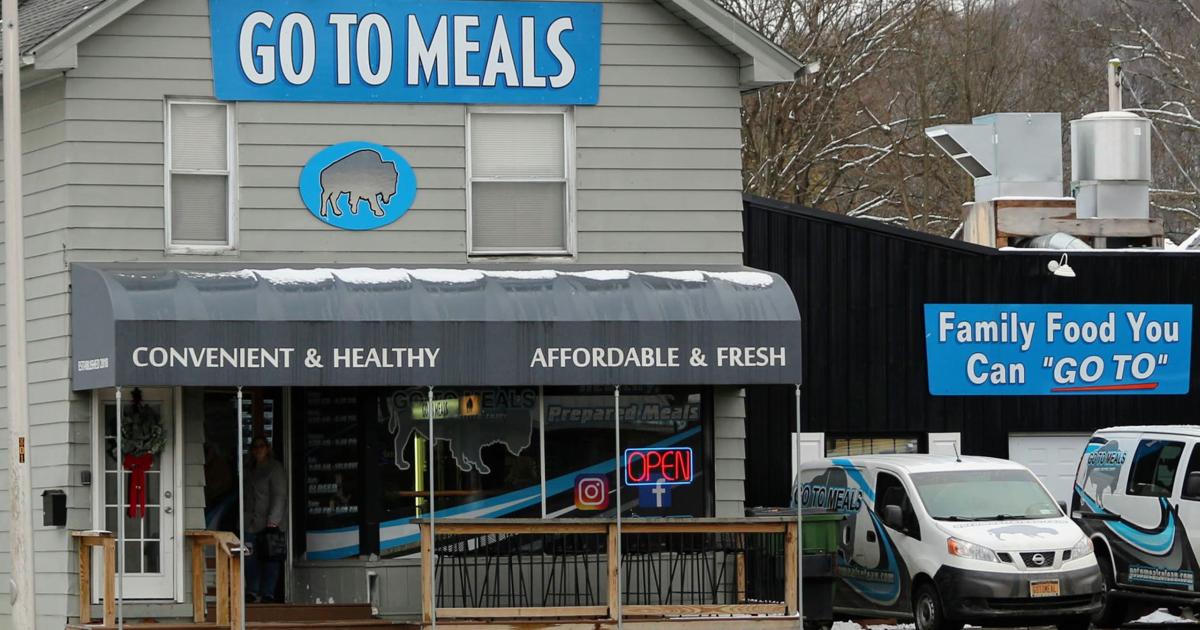 What began as a complement to Deon Gayton's desire to eat in a more healthy manner, fueled by his passion for working out while a student at Fredonia State University, has morphed into one of the area's most innovative and exciting food establishments — and one with a burgeoning future.
Gayton, who founded Go to Meals at the corner of Seventh and West State streets in Olean, admits he began the enterprise as "a side gig … something to do while helping to create more healthy meals."
Now, the business is one of the five finalists in the inaugural Erick Laine Business Accelerator Competition, vying for the top prize of $10,000, to be awarded after the businesses make their pitch on Dec. 7.
"The business is bigger than I thought it would be," Gayton said. "In the beginning, it was a way to save people time and to help them to eat healthy. But it's grown so quickly in the past 3½ years that we've been able to expand our plans and our approach to the overall business."
Specifically, Gayton has already opened a companion site in Jamestown, which has "doubled our business," Gayton said. And that's not all.
Recently, the business expanded its physical presence by purchasing the former United Way office building, located adjacent to their storefront, to prepare for the expansion of its offerings — and how it delivers its meals.
"We want to go national," Gayton explained. "We're going to use the power of social media to make our presence known nationally. We plan on shipping our product, packed in dry ice, across the country."
While that goal is lofty, so is Gayton's ambition to employ 100 people in Olean to make that dream a reality. What's helping in the growth is the education he's gaining from the Laine Business Accelerator program.
"The instruction and information the instructors from JCC (Jamestown Community College) and St. Bonaventure are giving us is so important," Gayton said, "as is the input from our fellow competitors — sharing insights about their own businesses and ideas for Go to Meals."
Gayton says two of the keys to his business's success are quality control and portion control — integral to the success of any food establishment, but especially for a niche business such as Go to Meals.
"We're accomplishing a couple of things with Go to Meals," he said. "First, we're giving people an easy way to eat healthy," he said. "But, just as importantly, we're giving people back time each day — time that they would have spent cooking. To a lot of our audience, that's very important to them."
The demographics of those who use Go to Meals cut across a wide swath — from those who just want healthier choices to those who just don't have the time — or the inclination — to cook.
"We're conducting a survey now of our customers, which is part of our involvement in the competition," he said. "We already know that advertising on social media drives approximately 90 per cent of our business. The lure of advertising on social media is the ability to tightly control the demographics you're targeting … it's a very focused way of marketing to a larger audience."
And a larger audience is exactly what Gayton and Go To Meals are aiming at.
https://www.oleantimesherald.com/news/go-to-meals-seeks-top-prize-in-lane-business-accelerator-competition/article_254d68b5-9cd0-5694-8578-08aa07da1f81.html