Guest Commentary | 'Having a license-plate number is paramount to an investigation' | Guest Commentary
4 min read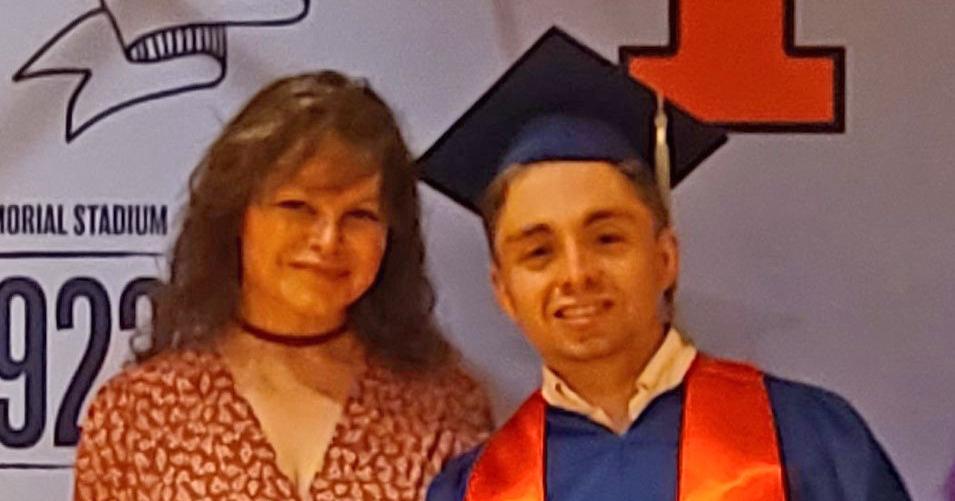 Want to weigh in? Submit a Letter to the Editor here
A letter from Terry von Thaden, the mother of North Prospect shooting victim Liam Gasser
While violence has been on the rise before now, this year alone, Champaign-Urbana has experienced an unprecedented increase in the number of shootings, the number of victims injured by shootings and the number of fatalities due to shootings.
Victimization from these crimes is also experienced by the families of those harmed and the community as a whole.
I am the mother of a 24-year-old victim of a senseless gun crime who remains in the critical-care unit a month after he was shot in the head. He's paralyzed. Quadriplegic. His life and ours, permanently, traumatically changed. Our future, permanently altered.
My excruciating pain as a parent pales in comparison to what my son experiences and will experience on a daily basis — hour by hour, minute by minute, second by second.
People keep asking how I feel about the debate over automated license-plate readers. Let me share what occurred only last week.
I was home from the critical-care unit one afternoon. As I turned on the dishwasher, I heard a long sequence of bangs. As many people in my neighborhood familiar with this sound do, I thought, "Is this my pipes? Firecrackers? Surely, that was way too long to have been gunfire."
I had my answer 20 minutes later when a police officer knocked on my door to ask if the security camera on my house picks up images of vehicles on the street. This is not the first time Urbana police have knocked on my door to ask this exact question.
The irony of the situation was not lost on me, especially since Urbana has recently declined the use of license-plate readers.
A couple of days later, I was entering the hospital when I realized I forgot something, so I went back to retrieve it. When I returned, the hospital was on lockdown, and I was denied entry.
I saw through the window that they were mopping blood from the floors. I would later learn there had been a shooting. A 28-year-old male was shot in the head, directly outside the entrance.
Certainly, we need to address gun violence in our community. More so, we need violent criminals off our streets. We live in an advanced technological society, yet currently, our police are forced to rely on antiquated investigative approaches; forced to go door-to-door, business-to-business in search of video evidence.
The police employ every means at their disposal and use expert labs to assess evidence, but now more than ever, we need technological solutions to provide information. Having a license-plate number is paramount to an investigation. Let's provide them the tools they need. The status quo is no longer acceptable in Champaign-Urbana.
License-plate readers provide a proactive avenue to do so. They are not proposed to deny our civil liberties, nor are they to be used for anything but to provide information on vehicle movement in the vicinity and time where a crime has been committed.
The University of Illinois campus is rife with video technology that has been helpful in solving and deterring crime. I frequently drive on campus and don't experience the ubiquitous technology as a denial of my civil liberties.
To the people who make arguments about the intrusiveness of license-plate readers, or references to "Big Brother" watching our every move, I ask you these questions: Do you own a cellphone? Use a computer? Use a credit/debit card? Have an email account? Use any form of social media?
Do you seek information from Siri or Alexa? Have you ever ordered anything online? Ever walked into a store or a public building? Used the parking lot at a big-box store? Eaten in a fast-food restaurant? Scanned items in the checkout lane of a store?
Your information is already in a database somewhere. You've already signed away more privacy rights under user agreements than you will ever be exposed to with the presence of license-plate readers in our community.
In my son's case, we have no useful evidence. Zero. And he was shot in the middle of a weekend day, at a jam-packed intersection in our busiest shopping district.
I can guarantee you this was not the first gun crime committed by the people who did this. Anything that offers information above zero, even 0.001, is a mountainous improvement.
I highly advocate for the use of license-plate readers to help put an end to our collective community victimization. I pray no one else experiences our pain.

https://www.news-gazette.com/opinion/guest-commentary/guest-commentary-having-a-license-plate-number-is-paramount-to-an-investigation/article_8c0bf7cb-874f-50c7-8ea7-3baaa0d0098d.html