Mitsubishi Mirage G4 excels in fuel economy run
3 min read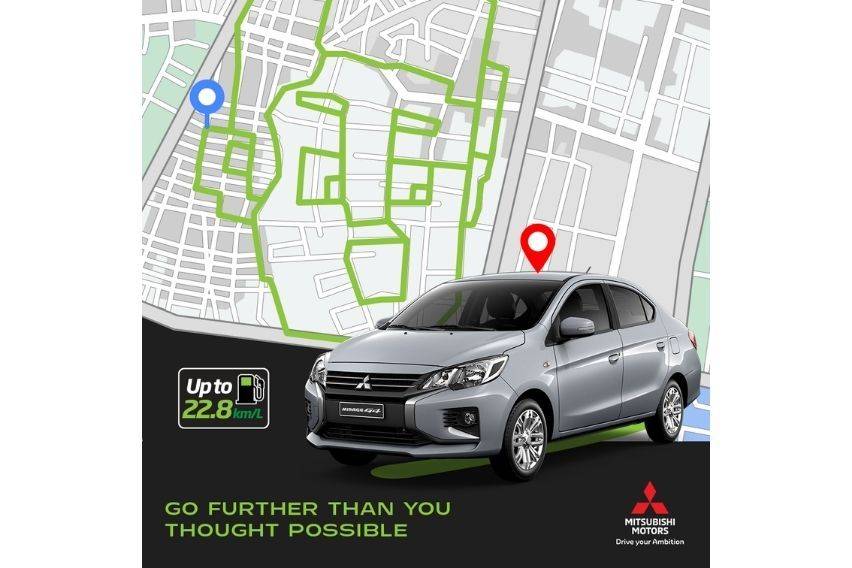 MANILA: Mitsubishi Motors Philippines Corporation (MMPC) conducted a fuel economy run for the new Mirage G4 under the supervision of the Automobile Association of the Philippines (AAP) last November 13.
KEY TAKEAWAYS
What is the fuel mileage achieved by the Mitsubishi Mirage G4 in its recent fuel economy run?

The Mitsubishi Mirage G4 achieved a fuel mileage reading of 22.823kpl.
What powers the Mitsubishi Mirage G4?

The Mitsubishi Mirage G4 is powered by a 1.2-liter three-cylinder MIVEC engine that churns out 76hp and 100Nm of torque.
After a highway test on SCTEX/TPLEX with a total distance of 236.227 km, the Mirage G4 GLS 1.2 CVT variant achieved an excellent fuel mileage of 22.823kpl. To simulate real-life driving situations, the vehicles were at full fuel capacity and tire pressure was set to 32 psi. The speed was maintained at an average of 80kph while adhering to all traffic regulations. There were three passengers on board, no extra luggage, and the air-conditioning was set to the low cool thermostat and lowest blower setting.
Although the new Mirage G4 boasts a more modernized style and interior upgrades, fuel efficiency remains a priority. MMPC said that whether it is driven through city streets or highways, the Mirage G4 will surely produce reduced fuel consumption without compromising performance or acceleration.
The Mirage G4 is powered by a 1.2-liter three-cylinder MIVEC engine that churns out 76hp and 100Nm of torque. It utilizes a variable valve timing system that reduces engine load and friction while also enabling an Eco Drive Assist function, making it easier to achieve improved fuel economy and smarter driving.
The locally assembled sedan boasts a light yet high-tensile body that does not sacrifice safety or comfort as it is designed with roomy legroom and trunk. There is enough room on board for friends and family, as well as weekend gear.
In a statement, MMPC President and Chief Executive Officer Hara Takeshi said, "The Mirage G4 is a global model developed on three concepts:  high fuel efficiency, affordability, and easy (drivability) — all of which we uphold to our customers with and through our new local slogan 'Life Made Better.' The positive results from the recently concluded Fuel Economy Run together with AAP supports Mitsubishi's commitment to uplift the ownership experience of Filipinos. No better way to manifest this than through a vehicle that is easy on the pockets and allows them to follow their hearts and be 'G4' anything."
The GLS CVT is the top trim of the new Mirage G4. This model also comes in GLX CVT and GLX MT variants. It is available in eight body colors: Wine Red, Pyrenese Black, Savanna White, Virgil Gray, Majestic Red, Medium Blue Mica, Sunrise Orange, and Cool Silver Metallic.
Photos from Roy Robles, Mitsubishi Motors Philippines Corporation
Also read: Mitsubishi Strada Athlete now comes in Jet Black Mica
https://www.zigwheels.ph/car-news/mitsubishi-mirage-g4-excels-in-fuel-economy-run