Most Popular 2022 Subaru Outback
5 min read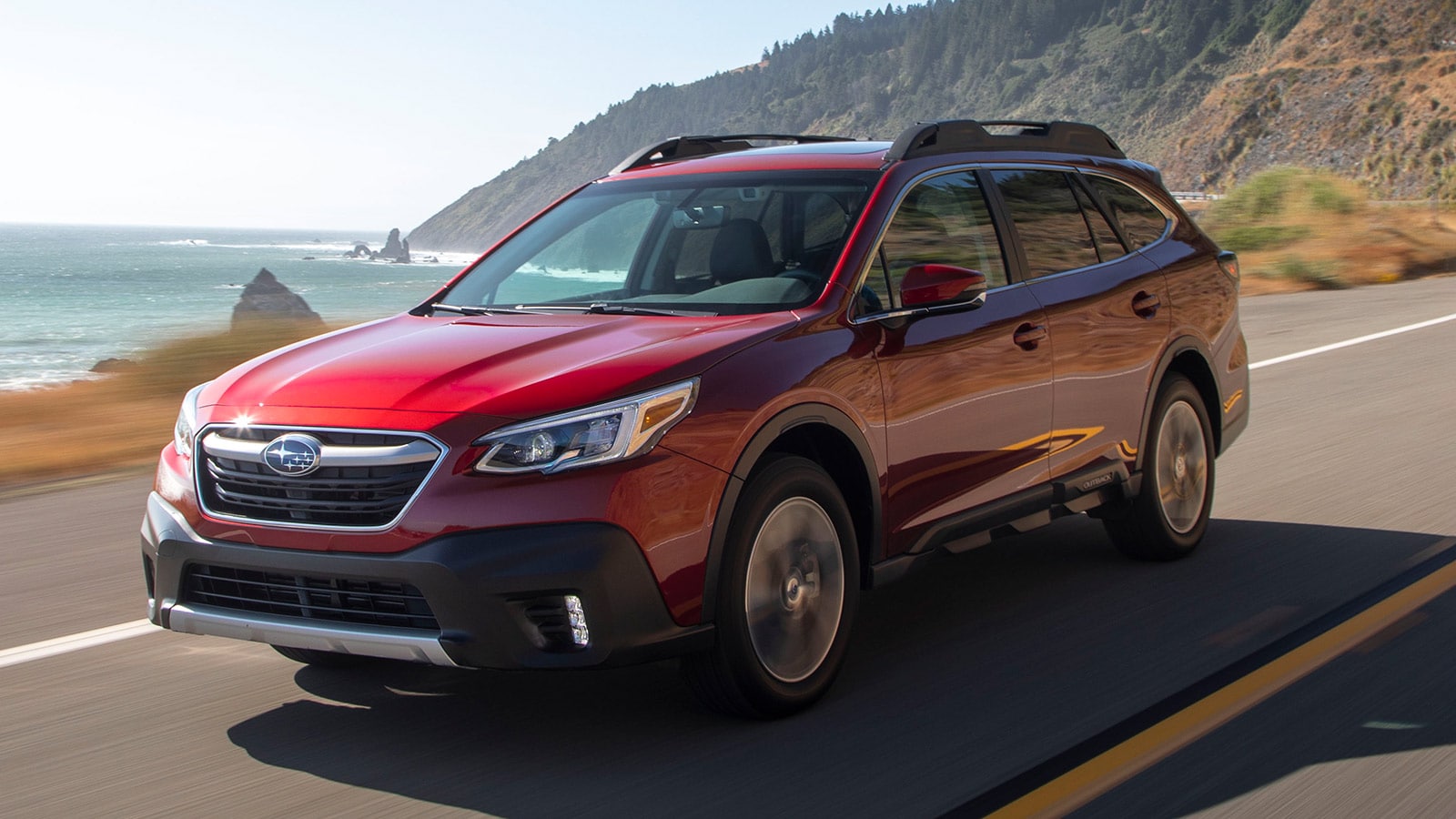 Significantly redesigned in 2020, the Outback was Subaru's second best-selling model in 2021. But it was awfully close to being the top seller. Subaru sold 154,623 Outbacks in the U.S. last year, versus 154,723 Foresters. Also notable: Outback sales were up by about 1% in 2021, a year that will be remembered for its severe COVID-related supply constraints.
Why does the Outback sell so well? Simple: It's a smart and practical alternative to sedans and SUVs. As a vehicle that's part station wagon and part SUV, the all-wheel-drive (AWD) Subaru Outback has more cargo space and ground clearance than most cars but enough dirt-road ability to reach remote campsites. You can fold the back seat and sleep in the back if you need to. At the same time, this roomy 5-seater is totally comfortable in the daily grind, exhibiting more agility on twisty roads than a tall SUV.
This Subaru also has an impressive resume as a KBB award winner. The 2021 Subaru Outback took home both a KBB 5-Year Cost to Own Award and a Best Resale Value Award.
Eight trim levels of the Subaru Outback are available: Outback, Premium, Limited, Touring, Onyx Edition XT, Wilderness, Limited XT, and Touring XT. Models with XT in their name are powered by a turbocharged 2.4-liter flat-4 engine with 260 horsepower, as is the new, more rugged Wilderness trim. All other 2022 Subaru Outbacks are equipped with a naturally aspirated 2.5-liter flat-4 that puts out 182 horsepower. All Subaru Outbacks are equipped with a continuously variable automatic transmission (CVT).
Of the eight available trim levels, the Limited takes the crown as Subaru's best-selling Outback. Let's study why.
Subaru Outback Limited
What's behind the Subaru Outback Limited's sales success? Short answer: The Limited has found a niche as a luxurious and well-equipped Outback sold at an attractively low price.
At $33,795, the 2022 Subaru Outback Limited has the third most affordable starting price of all eight trim levels. At the same time, it's a remarkably luxurious model with abundant standard technology and safety equipment.
While the Limited costs $4,450 more than the Outback Premium, consider what you get for that extra amount: standard leather upholstery, a hands-free power liftgate, power front seats, heated outboard rear seats, a 576-watt Harman Kardon audio system (with 12 speakers), and even thoughtful little features such as a compass in the rearview mirror and auto-up/auto-down power windows with pinch protection. Cosmetically, the Limited's primary upgrade are 18-inch alloy wheels wearing 225/60R-18 tires (versus 225/65R-17s on the Premium).
Also notable: The 2022 Subaru Outback Limited has a significantly improved safety suite. While all 2022 Subaru Outbacks are equipped with the EyeSight safety suite (which includes adaptive cruise control with lane-centering, automatic emergency braking, and lane-keep assist), the Limited builds on that with standard blind-spot monitoring, lane-change assist, reverse automatic braking, and rear cross-traffic assist. Good technologies, all.
Multiple pet-related, bicycling, and camping-type accessories are available with the Outback Limited, but there's only one available option package.
This $2,045 package includes a power moonroof, a heated steering wheel, a navigation system with an 11.6-inch screen, and a system designed to identify a distracted or drowsy driver. Via a dash camera and facial recognition technology, it monitors the driver for distraction or drowsiness. If it senses either, the driver will get an audible warning. If the driver fails to respond, the Outback will slow to a complete stop if necessary and call for emergency help via the StarLink system.
In sum, the Limited — with or without the available option package — has established itself as the most popular Subaru Outback trim level. By adding more safety features to a luxurious and well-equipped model, and by keeping the price toward the lower end of the Outback spectrum, Subaru has created a sales winner.
Other 2022 Subaru Outback trim levels
At the base level, the $27,145 Subaru Outback gets by with cloth upholstery and 17-inch wheels. But it's an Outback at its core, with the 2.5-liter engine, X-Mode AWD, raised suspension, and 4-wheel disc brakes. Unexpected niceties on the base Outback include hill-descent control, active LED headlights, roof rails, and an electronic parking brake.
Next up, the $29,345 Outback Premium. This Outback is distinguished by dual-zone climate control and heated front seats, plus a power driver's seat, a leather-wrapped steering wheel, and dual rear USB charging ports.
The $37,695 Outback Touring bumps the luxury quotient even higher than the best-selling Limited does. In addition to a supple Nappa interior leather and a heated steering wheel, the Outback Touring gets Subaru's StarLink navigation (with an 11.6-inch screen), a CD player, and the same powerful Harman Kardon audio system used in the Limited. Also standard: a 180-degree front-view monitor.
The most affordable 2022 Subaru Outback with the turbo engine is the $35,345 Onyx XT. Powered by the turbocharged 2.4-liter flat-4 engine with 260 horsepower, the Onyx XT comes standard with a power moonroof and chrome-finish side mirrors that have integrated turn signals. The Onyx XT also gets 18-inch wheels, a full-size spare tire, and water-repellent upholstery. Towing capacity with the turbo engine increases to 3,500 pounds (from 2,700).
New for 2022 is the $37,195 Outback Wilderness, a turbocharged model equipped to be more competent in the dirt with raised suspension, all-terrain tires, a revised AWD system, extra underbody protection, prominent body cladding, LED foglights, and raised roof rails. The Wilderness, available in an exclusive Geyser Blue color, also boasts water-repellent upholstery and unique badging.
The Outback Limited XT, at $38,195, is basically a turbocharged version of the Outback Limited. Standard fare on the Limited XT includes leather seat upholstery, a power moonroof, body-color side mirrors with integrated turn signals, and StarLink navigation with the 11.6-inch screen.
Capping the 2022 Subaru Outback lineup is the Outback Touring XT. This turbocharged $40,145 model gets Nappa leather upholstery, a 180-degree front monitor, a CD player, and rearview mirror housings in satin chrome with integrated turn signals.
Remember, though: None of these models have sold as well as the Subaru Outback Limited, a thoroughly enticing and popular blend of luxury and technology that occupies the attractive pricing niche between the Premium and Touring models.
https://www.kbb.com/car-news/most-popular-2022-subaru-outback/