Need a Spare Tire? Why You Should Turn to the Pros and Not Cobble A Kit Together
7 min read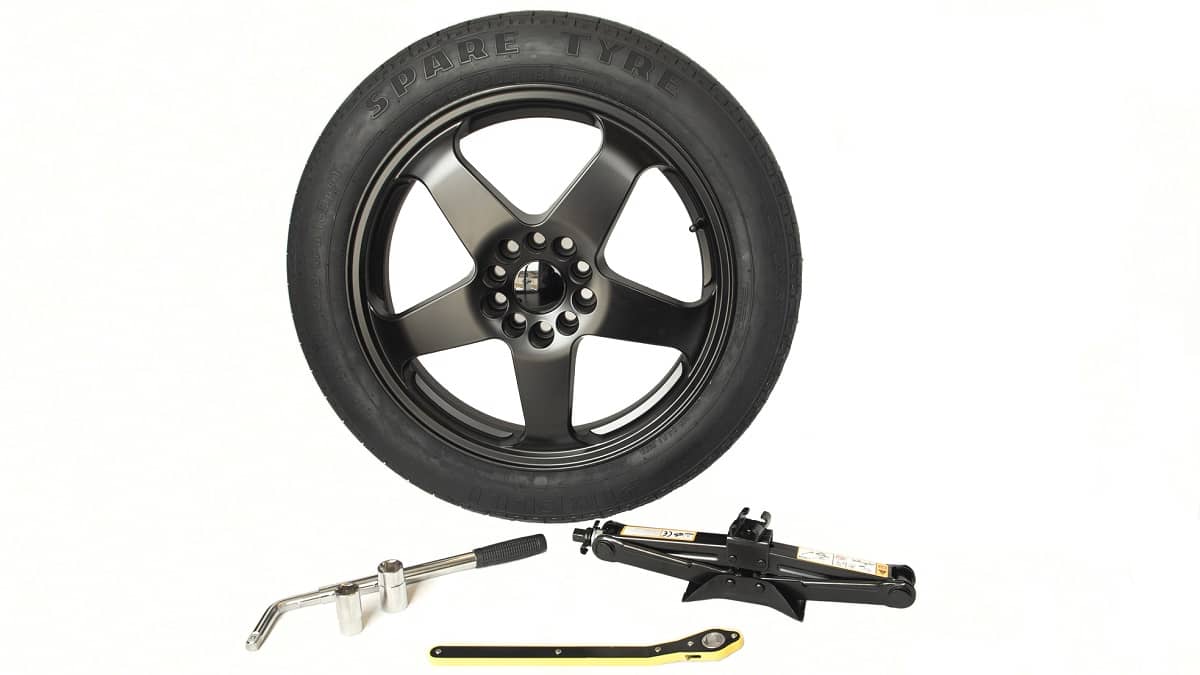 If you are reading this, then chances are you have purchased a new vehicle without a spare. Perhaps it is a Tesla, Mustang Mach-E, Volkswagen ID.4, or another green vehicle. Maybe it's a conventional vehicle like a Hyundai Kona Ultimate or Acura TLX Type S? More and more manufacturers are stealing your spare and providing you with a lousy puncture-seal kit, or in some cases, nothing at all to help you in an emergency.
Related Story: When Your Vehicle Has No Spare Tire – Modern Spare Is the Solution
New car dealers are not much help. They are focused on sales profits and an absent spare tire is not going to help them sell the car. Unless you notice, the missing spare is likely not mentioned during the buying process. Spares are not one of their products because it highlights that they sold you a car without one.
So where can you turn? Should you scour specifications and social media to try to determine if a spare from some other vehicle will fit? Buy a full-size wheel and tire and take up your cargo area with a huge wheel? And if your vehicle has staggered tire sizes front to rear, how could that be a solution? What about tools? As you can see, it's not an easy thing to source a spare tire when your car brand leaves you high and dry.
Thankfully, there are options out there. One we like to highlight (note that this is not an advertisement) is Modern Spare. We had an opportunity to speak with Matthew Kunz, Product Developer for Modern Spare, to find out more about how to source a spare tire when your manufacturer has robbed you of one. Matthew wishes to articulate why getting one from the experts is a better route than trying to cobble together your own kit. We asked Matthew a series of questions to help provide some background on spares and to help shoppers understand why buying a proven spare as a kit makes the most sense.
We've discovered that although a spare tire can seem like a simple accessory, there is much more to consider to ensure safety, proper fitment, and most importantly, compatibility with your vehicle's modern sophisticated drivetrain.
Related Story: Modern Spare Launches Volkswagen ID.4 Kits and Spare Tires
Question #1 – Is there such a thing as a universal spare tire?
Matthew: While there are many similarities between car models, There is no such thing as a universal spare tire. As sophisticated as modern vehicles have become, any wheel and tire combination must be designed specifically for the vehicle for which the spare is intended. Be wary of any design, new or used, that takes a generic wheel and modifies it to "work" on your car. Given the price you pay for your vehicle and your reliance on it, make sure the entire spare tire setup is specifically designed and built for your year, make, and model. There is actually a lot of engineering involved in creating a proper spare and there is good reason for it.
While some vehicles may share lug bolt patterns, there is a rather long list of design factors that must be considered over just a matching bolt pattern alone. Exceptions to this may be where the specs of one model are the exact specs of your vehicle if from the same carmaker. This is where a salvage yard option may be an option as long as all vehicle specifications are identical. This requires some research. Just be willing to put in the needed time to match things up properly. However, please be aware of tire aging. Learn how to read tire date codes. An outdated, aged tire is not a safe tire. This is definitely a matter of safety if you source a used or salvage yard option.
And here is another key factor worth noting. There are some bolt patterns on modern vehicles that are so similar although different, you can actually mount a wheel on your car with the wrong bolt pattern and not realize they are incorrect. Even though these bolt patterns are very similar, it is highly advised that you choose a spare wheel with the precisely machined bolt pattern your car requires and not rely on a "close-enough" option.
Related Story: Modern Spare Launches Compact Spare Tire Kits For Ford Mustang Mach-E
Question #2 – Why is the size of the spare so important? It is just a spare, right?
Matthew: Most know a compact spare tire is narrow by design. However, your spare tire's overall diameter (measuring from top to bottom) must be within a strict size range to be right for your car.
Choosing a spare tire that is within a specific size range of that rolling diameter is another critical factor. If a spare tire is excessively small, far too much stress is put on the car's drivetrain and should not be used. A proper spare will have a suitable matching rolling diameter to your cars' regular tires. If the diameter is not an exact match, it still must be within a very precise size range to be safe for the vehicle.
Question #3 – Why is a brand-name tire needed on a spare tire setup?
Matt: Major tire manufacturers such as Continental, Pirelli, Goodyear, Maxxis, and Khumo among others, manufacture narrow space-saving sizes for spare tire applications. You may find more peace of mind with a trusted major tire brand on your spare vs an unknown generic option.
Generic or unknown brands are not necessarily bad. However, just like regular tires, there is a significant difference in quality and durability between tire manufacturers. As mentioned, a spare tire is more narrow by design and as a result, the spare tire will be doing the work of a much wider factory-size tire. In short, the tire works harder. This tire should be designed to handle a brutal workload relative to its size. As you may know, electric vehicles are much heavier than conventional vehicles. It is more important than ever to make sure your narrow spare tire is built to handle the stress that you'll give it.
This is at the heart of our decision and recommendation to only use tried and trusted name-brand tires if you are assembling a spare on your own. We choose spare tires with the strength and durability to get you home or to a repair shop safely. Generally, when our customers see their spare is assembled with one of these trusted brands, it simply adds to the peace of mind they are looking for.
Question #4 – Is the jack specifically designed for and correct to lift my vehicle?
Matthew: Modern vehicles have very specific lift point locations. Also, vehicles have different lift point types under the car. Not only is it critical to identify and use the correct lift point location when raising your vehicle, more so is having the correct contact point on your jack. If you fail to raise your vehicle at the proper lift point, serious damage can result. This is especially true with electric vehicles that have battery assemblies built into the bottom section of the car's body. Things could get expensively messy real fast (Tesla owners, we're looking at you). Once you are keenly familiar with the lift point locations, you will need to identify the specific lift point type. If you do not have the correct type of jack, changing out your tire on the side of the road is a no-go. Research here will pay off by taking time to learn what your vehicle needs. Not just with jack type but also in weight capacity. Remember, EVs are heavy!
Do not assume that a jack from one model will work for another model even if the vehicles are from the same manufacturer. GM, Audi, Dodge/Chrysler, and other brands use a variety of lift point types across their entire model lineup and these jack types may not be interchangeable.
Question #5 Is installation simple and intuitive?
Matthew: It's best to assume your vehicle will have a flat when you are not around to change it. Allow me to explain- Imagine a less experienced family member having a major tire failure miles from home. Clear, precise instructions may be among the most important components of your spare tire setup ranking right up there with the tire. Jack placement along with observing good safety measures will make the process smooth and less stressful. Make sure this information is clearly outlined and on-hand. Also, it is critical that your spare tire tools are correct for your specific car. A stubborn lug nut/bolt can make a quick tire change become a frustrating mess.
Question #6 – What about large performance brakes? How do they impact spare tire selection?
Matthew: Braking components are getting larger on newer cars. True especially with brake rotors and calipers as the manufacturers' race to outperform each other. The large brakes will certainly add to the carmaker's reluctance to provide a spare along with the added engineering expense of designing a spare to fit over high-performance brakes. It is simply easier to eliminate the spare altogether, save the cost of providing it, and leave you with less effective options. Modern Spare has designed our wheels to accommodate very large brake rotors and calipers and they are selected specifically for your vehicle's exact trim. This will save a lot of headaches long term.
Our thanks to Matthew Kunz and Modern Spare for taking the time to tell us a bit more about why the right spare tire and kit is so important.
John Goreham is a long-time New England Motor Press Association member and recovering engineer. John's interest in EVs goes back to 1990 when he designed the thermal control system for an EV battery as part of an academic team. After earning his mechanical engineering degree, John completed a marketing program at Northeastern University and worked with automotive component manufacturers, in the semiconductor industry, and in biotech. In addition to Torque News, John's work has appeared in print in dozens of American news outlets and he provides reviews to many vehicle shopping sites. You can follow John on TikTok @ToknCars, on Twitter, and view his credentials at Linkedin
Re-Publication. If you wish to re-use this content, please contact Torque News for terms and conditions.

https://www.torquenews.com/1083/need-spare-tire-why-you-should-turn-pros-and-not-cobble-kit-together