New Studio 4 East owners in Laine Business Accelerator competition | News
3 min read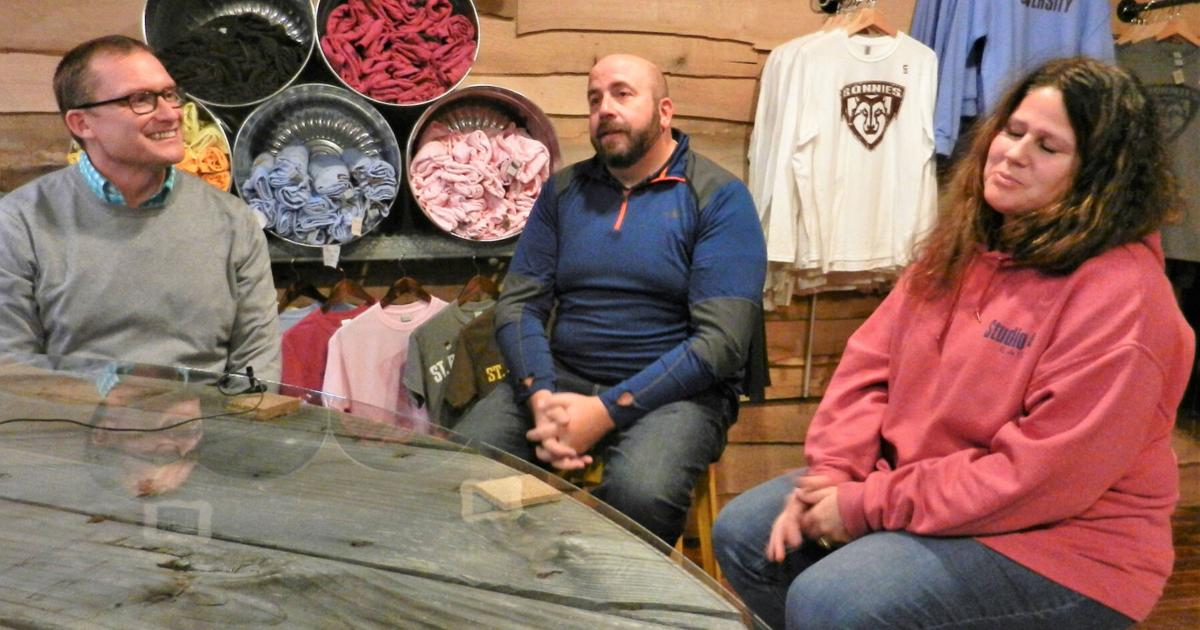 (EDITOR'S NOTE: Five area businesses are vying for a share of $35,000 in business funding as they compete in the Erick Laine Business Accelerator, an incubator created to stimulate business growth in greater Olean and Cattaraugus County. The finalists will take part in a final business showcase taking place Dec. 7 at Jamestown Community College's Olean campus. For details on the showcase event, visit https://www.lainebusinessaccelerator.com/.)
Mark Riordan and Kara Fortuna began their discussion about buying Studio 4 East where all good business meetings occur — at a graduation party.
They later purchased the 40-year-old business and began pumping out T-shirts, apparel and custom orders — once they learned how to print shirts from their printer, Rob Higby.
The former owners of the store, the Wintermantel brothers Mikel, Dan and Pete, had decided to sell the business after a long legacy.
Its new owners, Riordan and Fortuna, said they have worked to carry on the Wintermantels' work while adding new designs, incorporating new business decisions and managing a loyal customer base.
"We definitely wanted to continue what (the Wintermantels) had been doing, because they're iconic," Fortuna said. "But we've also taken a little step into the modern world."
Within their first year of managing the business, Riordan and Fortuna applied for the Laine Business Accelerator, designed to help small businesses push forward and expand.
After being accepted to the program, the two have participated in small group sessions and mentoring with the other selected business owners.
"Neither of us have a business background … We've got a lot of life experience," Riordan said. "To be able to learn and to branch out a little bit in the community, that's what it really was. It was fortuitous. I can't believe we even got selected."
Fortuna said she feels the program has been a great help to her and Riordan as they work through the excitements and challenges of owning a business.
Riordan said he and Fortuna have made strong connections with the other business owners in the program. He said their insights and business models have helped him learn, too.
Fortuna said the owners have learned more about accounting, legal matters in business and continuing to grow Studio 4 East as a whole through guest speakers that have taken part in the Laine Business Accelerator's workshops and discussions.
Riordan and Fortuna will compete against the other four business owners in the final portion of the Laine Business Accelerator next month. For the two of them, though, the program has never felt like a competition, Fortuna said.
Riordan said another business in the accelerator would receive his vote in the competition, if he could vote.
"We've had the discussion, who we'd vote for, and it's not us. And that's kind of the feel within the cohort," Riordan said. "You have that respect and that admiration and the knowledge that we're all there; they're all going through the same stuff."
Though they said the Laine Business Accelerator has helped them move forward, the two said they have much left to learn as they continue growing their business.
"We're a 40-year-old company, but we are a startup," Riordan said. "We didn't start at zero, but we're learning, and we're growing and trying to figure it all out."
https://www.oleantimesherald.com/news/new-studio-4-east-owners-in-laine-business-accelerator-competition/article_8048b42d-2a7b-52cb-b7e7-08d44b6c579c.html