Q&A: All the basics on Champaign's license-plate readers | Courts-police-fire
8 min read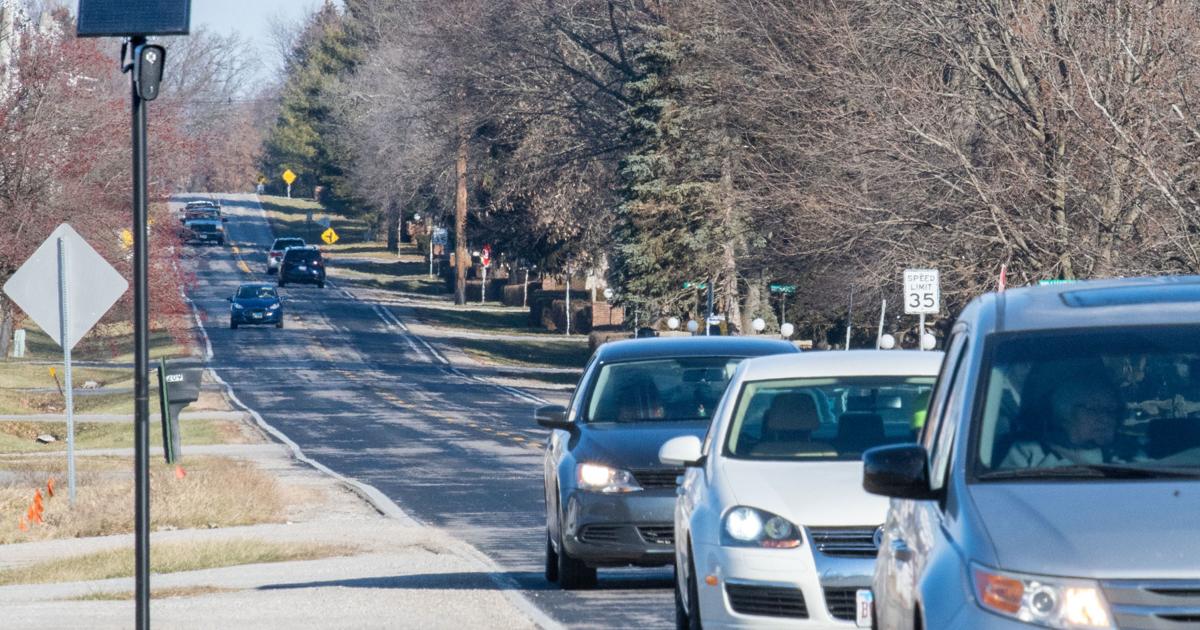 CHAMPAIGN — More than 45 automated license-plate readers, along with gunshot-detection technology, are coming to Champaign in a few months after the city council approved the tech in a 6-3 vote at Tuesday night's meeting.
Here are some answers to basic questions about the technology, collated from the quotes of city officials, company representatives, those who commented at the city council meeting the approved resolution itself, which was written by Jon Swenson, a retired police officer working as the city's interim administrative services manager, and reviewed by interim police Chief Tom Petrilli.
When will the readers be installed?
The devices should be operational by Feb. 28, 2022.
"That is our anticipated plan, depending on the involved IDOT approval that timeline may be pushed, it depends," said Nancy Rabel, assistant city attorney.
Scheduling the installation should take several weeks, and installing the readers and shot-detection technology should take about one week.
Several recommended locations of the license-plate readers are along state roads, so those require Illinois Department of Transportation approval. According to the resolution, the IDOT approval process is "expected to delay that installation" for about eight weeks.
How much do they cost, and how will they be paid for?
A two-year lease of 46 automated license-plate readers will total $240,500.
That's $2,500 per camera per year, plus $3,600 in software installation and a $150 implementation fee for each camera.
"Within the first year, the cost will be covered from the savings of vacant positions in the police department," city Finance Director Kay Nees said. "For the following fiscal year, it will be included within the city budget as one-time funding, coming from our available fund balance."
The vote to fund the second year of plate readers would happen during the last regular meeting of June 2022, she said.
"There is no revenue being generated from this," Nees said.
Who is providing this technology?
Flock Safety, an Atlanta-based startup founded in 2017.
In four years, it's become the industry leader for automated license-plate reader technology, having sold them to neighborhoods and police agencies in about 1,200 cities across 40 states.
Who else has installed the readers?
More than 60 agencies across the state of Illinois are using the plate readers from Flock Safety, including several nearby departments.
The Champaign County Sheriff's Office has deployed seven, split among Mahomet, Champaign, Urbana and Savoy. The University of Illinois Police Department has installed two, with three more on the way in spring.
Springfield recently approved 83 Flock license-plate readers, set to arrive in February 2022. Decatur's police department has 60, Rantoul's has 12. Danville and Peoria have 30 and 18 on the way, respectively.
Have any of these cities netted arrests?
In the area, Rantoul police used their plate readers to make arrests for in summer shootings and a December shots-fired call.
With Champaign's vote, is the Urbana City Council reconsidering it's rejection?
Urbana Mayor Diane Marlin told The News-Gazette the following on Wednesday:
"I hope that we will reconsider the use of ALPRs and other investigative tools. With the installation … in Champaign, University of Illinois campus, Rantoul, and Champaign County, it will be a shame for Urbana residents and businesses to not have the same protection as our neighboring communities. I strongly believe we should listen to the people hardest hit by gun violence and invest in the ALPRs to help solve crimes and hold people accountable. This is an opportunity to coordinate law enforcement efforts to address gun violence and other serious crimes."
Urbana's city council voted down the adoption of 20 Flock license-plate readers last month.
Where will they be placed?
The city provided a preliminary map of the first 36 license-plate readers, based on incidences of shootings from 2016-2021. These locations are mainly in north Champaign.
The other 10 approved at Tuesday's council meeting will go to the following suggested locations, barring any blockages:
Staley Road, north of Kirby Avenue
Staley Road, south of Springfield Avenue
Kirby Avenue, west of Prospect Avenue
Kirby Avenue, east of Mattis Avenue
Windsor Road, east of Galen Drive
Windsor Road, east of Mattis Avenue
Curtis Road, east of Mattis Avenue
Curtis Road, east of Duncan Road
Neil Street, south of St. Mary's Road
Church Street, east of Country Fair Drive
"It is also important to note that the ALPRs can be relocated during the term of the agreement based upon changes in shooting incident trends so that the technology can be best positioned to have a meaningful impact on areas of the community that are experiencing the highest levels of gun violence," the resolution notes.
What exactly is the 'Raven Gunshot Detection Technology' included in this deal?
They're Flock-provided acoustic sensors, set to be installed around the perimeter of a Garden Hills neighborhood.
The coverage area, according to the company, will detect gunshots within a 1.3-square-mile radius. According to a map provided with the resolution, the technology will cover the area bounded by Bloomington Road on the north, Bradley Avenue on the south, Mattis Avenue on the west and McKinley Avenues on the east.
The first year of the technology is provided at no extra cost. It is included with the purchase of 15 or more license-plate readers — essentially a free trial.
To continue using the gunshot-detection tech, the city council would have to vote on it. An extra year of the same coverage area would cost $32,500.
According to Holly Beilin, a Flock spokesperson, this tech is scheduled for deployment in the first half of 2022.
What has Garden Hills said about this?
A few neighborhood residents weighed in prior to the council's vote Tuesday, including Chad Smith, president of the United Garden Hills Neighborhood Association.
"If this council cannot assure this community that it's not going to negatively impact the Black and Brown people, the marginalized community in Champaign, then I'd vote against it," he said.
Smith said there wasn't enough outreach from the city about the gunshot-detection add-on, which encompasses a coverage area squarely within his neighborhood.
"The fact that this shot recognition technology just impacts Garden Hills, I would've thought there would've been a conversation to inform me or our representatives that you were looking at that area," he said at the meeting. "Those conversations need to happen so nobody's caught off-guard and we don't feel like you're trying to pull a fast one."
Samantha Carter, a resident of Garden Hills, shared pictures of the damage that several gunshots wreaked on her home.
"There is a war going on in these streets, there was another gunshot victim on Bradley Avenue and I just feel like we need some help, we need it now," Carter told the council. "No, the (readers) won't be the solution for these violent crimes that are happening, but I think they will be a good tool in helping police catch those offenders."
She also implored the city to share the readers' efficacy data "as soon as it's available."
"We need to see if it's working or not. If it's not, we need a plan B," she said.
What will the readers be used for?
City staff and council members have insisted these will only be used for serious crimes and purposes.
Here's the wording straight from Champaign Police Department's draft of policy and procedures around automated license-plate readers:
License-plate readers "are used by the Champaign Police Department to convert data associated with motor vehicle license plates and use it for official law enforcement purposes, including identifying the license plate numbers of or associated with stolen vehicles, wanted subjects, missing persons, Amber Alerts, or other criteria as determined by a deputy chief of police."
The readers "may also be used to gather information related to active warrants, homeland security, electronic surveillance, suspect interdiction, stolen property recovery, or other legitimate law enforcement purposes."
The devices "shall not be used to enforce registration violations or city ordinance violations."
Information for the department's own "hot list" — basically the license plates sought for the above reasons — "can come from a variety of sources, including but not limited to the National Crime Information Center, the Law Enforcement Agency Data System, and the Illinois Secretary of State. Officers may also manually add license plates to the hot list based upon information relayed to or learned by them in the course of their official duties."
And the prohibited uses:
To record license plates on private property.
To harass or intimidate any person or group.
For personal reasons.
Champaign police did not respond to requests for comment made on Wednesday.
What about all the plates of cars that aren't criminally implicated, or desired for any reason?
All data collected by the readers — any "hits" or reads — must be purged from the database after 30 days, "unless it has become, or it is reasonable to believe it will become, evidence in a criminal or civil action, or is subject to a lawful action or order to produce records," according to the drafted police policy.
Any of the desired data must be transferred to the appropriate evidence servers, the policy says.
How accurate are these readers?
Here's what Flock spokeswoman Holly Beilin told The News-Gazette:
"The Falcon ALPR captures 97 percent of vehicle traffic, with 93 percent license-plate character accuracy, 95 percent vehicle-color accuracy, and 98 percent vehicle-type accuracy. Weather is not so much a challenge to vehicle- or plate-capture accuracy, but can sometimes present an issue around battery life of the cameras, since decreased sunlight results in the underperformance of the solar-powered batteries.
"In areas with long winters, we have a solution to deal with this and bolster the solar battery with backup power."
How will this technology be evaluated?
The resolution denotes several measures to assess the license-plate readers' effectiveness.
For one, Flock will assist the city to set up a "Transparency Portal" for Champaign's plate readers. According to the city, the portal will provide usage statistics like the number of readers in operation, the other law-enforcement agencies Champaign is sharing plate information with and stats on the number of reads and alerts processed by the technology.
On top of that, Champaign police's deputy chief of operations must conduct a twice-annual evaluation of the license-plate reader system.
The evaluations, forwarded to the chief of police, will include comments on the efficacy of the system and how the reader locations match up to recent crime trends.
"Police administration is encouraged to share the results of each evaluation with neighborhood groups, business owners, and interested community members as part of the community engagement process," the drafted policy says.
With the consent of the police chief, the deputy chief may move the readers around to "improve efficacy."
The Raven gunshot-detection tech will be evaluated prior to the one-year expiration.

https://www.news-gazette.com/news/local/courts-police-fire/q-a-all-the-basics-on-champaigns-license-plate-readers/article_952d7571-9af3-5db2-af62-eda5b6247a02.html