River Roadhouse repurposed from vintage gas station
4 min read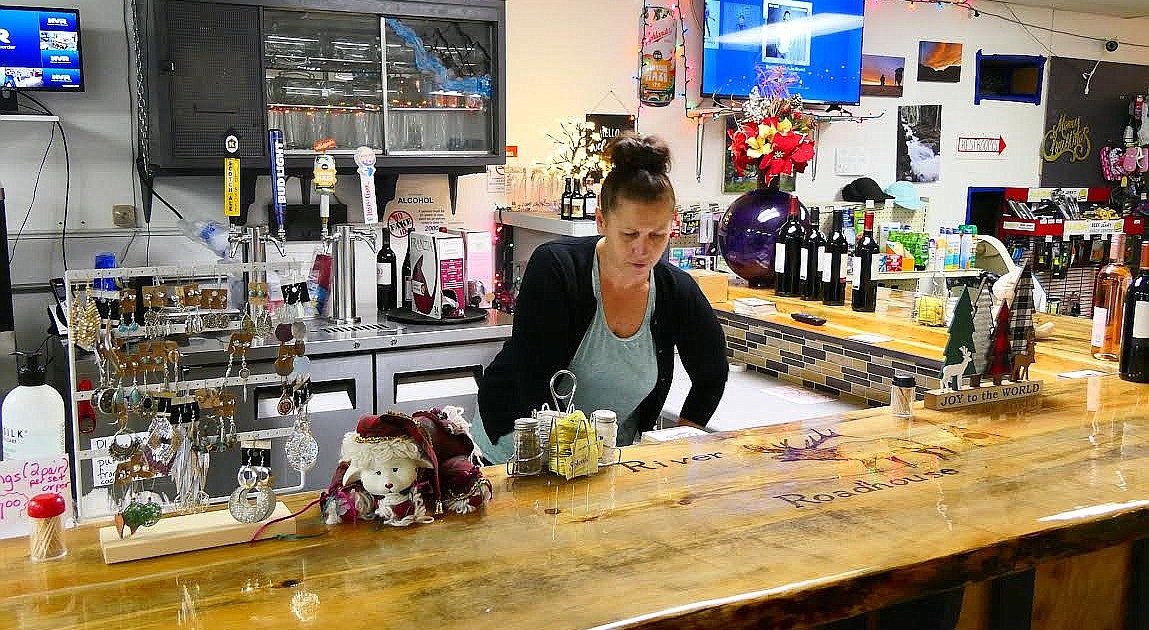 The three "Rs" are alive and well in the White Pine area of Sanders County.
Not the traditional "reading, 'riting and 'rithmatic" of school days gone by, but a new kind of lesson with important ramifications for a rural community.
In the case of the River Roadhouse restaurant, the three Rs stand for "rescue, re-purpose and renovate."
For the many folks who travel Montana 200 west of Thompson Falls and have wondered about the classic 1970s gas station with prices from years past still clinging to outdoor reader boards, the change is evident and no doubt welcome.
Thanks to the vision and determination of area resident Machelle Brossman and others, the once abandoned filling station has been saved from the wrecking ball, designed for a new use, and remodeled from top to bottom and front to back.
And a fourth "R" is in the works that stands for "returning" as in giving back to the local community. Proceeds from sales during an event on Saturday were set aside for contribution to help three charitable endeavors in the area between Thompson Falls and Trout Creek.
"I have always been very community-oriented," said Brossman as she prepared to open the restaurant for the day. "I have always wanted to do something to allow me to give back to the community and I think this is it".
After being empty and idle for nearly nine years, the building is now open for business, thanks to some extra work put in by Brossman to find a solution to the main reason no one else would take a chance. In front of the old gas station were four gas pumps that sat atop large, buried underground gas storage tanks.
Those tanks presented an environmental problem that would become the responsibility of any new owners of the property.
Because of the expense involved, several potential buyers shied away from taking on that responsibility.
Brossman wondered if there was any kind of government aid available to assist with the cost of digging up and removing the tanks and discovered after researching the matter that a grant-in-aid was indeed available.
As a result, work is scheduled to begin this week (weather permitting) on removing the potential environmental threat and filling in the big hole doing so would leave behind.
That proved to be the final major hurdle in purchasing and beginning an extensive remodel project that transformed the former filling station into a classic country restaurant.
"I had been looking for something to do and was able to work out a deal with another party to buy half the building and three acres that surround it," she said. "And so far the community support has been great, with a bit of a boost from tourist traffic in the days after we opened for business this past Memorial Day".
"Now," she said, "it's time to start giving back to this community."
Brossman's interest in the area traces back to the days when her mother was a school student in the White Pine area.
THE REMODELING process involved basically gutting the interior and switching it to a country diner motif, complete with hand-crafted table tops throughout. The plan also called for retaining the small country store feature of the gas station, featuring the "basics" for travelers and locals alike.
Next up was the kitchen area, which was extensively remodeled and equipped with new restaurant quality appliances. The restaurant has a menu that ranges from hand-pressed Angus beef hamburgers to prime rib.
Once the underground tanks are removed from the front of the building, a concrete pad will be poured and become an outdoor dining area. On the east side of the building, plans are being implemented to build a stage and play area for future concerts and activities such as horse shoes and other outdoor games.
Just down an adjacent road lies the Finley Flats recreation site, which includes frontage and access to the Clark Fork River. That prompted Brossman to begin the process of establishing a kayak rental business for tourists and locals who want to enjoy the river, then have dinner at the River Roadhouse.
This weekend's fundraiser, which runs from 12 noon to 3 p.m. Saturday, will feature hay rides from the restaurant to the Finley Flats area for a "donation" of two cans or more of food.
There will also be cider and hot chocolate available, along with an appearance by Santa Claus. Proceeds in the form of donations from these events will be split three ways in hopes of helping three local charities.
Twenty five percent of the proceeds will go to the Sanders County Sheriff Department for its various needs, 25 percent will be used to provide dinners and Christmas gifts for area residents who might otherwise not be able to afford them, and the remaining 50 percent will go to a local family to help them overcome a major event in their lives.
"This first year of what we hope will be an annual event, the 50% will go to a local family who lost everything when the camper they were living in burned down" Brossman said.
"We want to be here for locals and the tourists," she said. "We feel blessed to have had the support we've enjoyed from the people of this area and we want to give back however we can".
The River Roadhouse is approximately 9 miles west of Thompson Falls at the Finley Flats turnoff.
https://dailyinterlake.com/news/2021/dec/12/river-roadhouse-repurposed-vintage-gas-station/