Technology startup reimagines fuel markets for 21st century
11 min read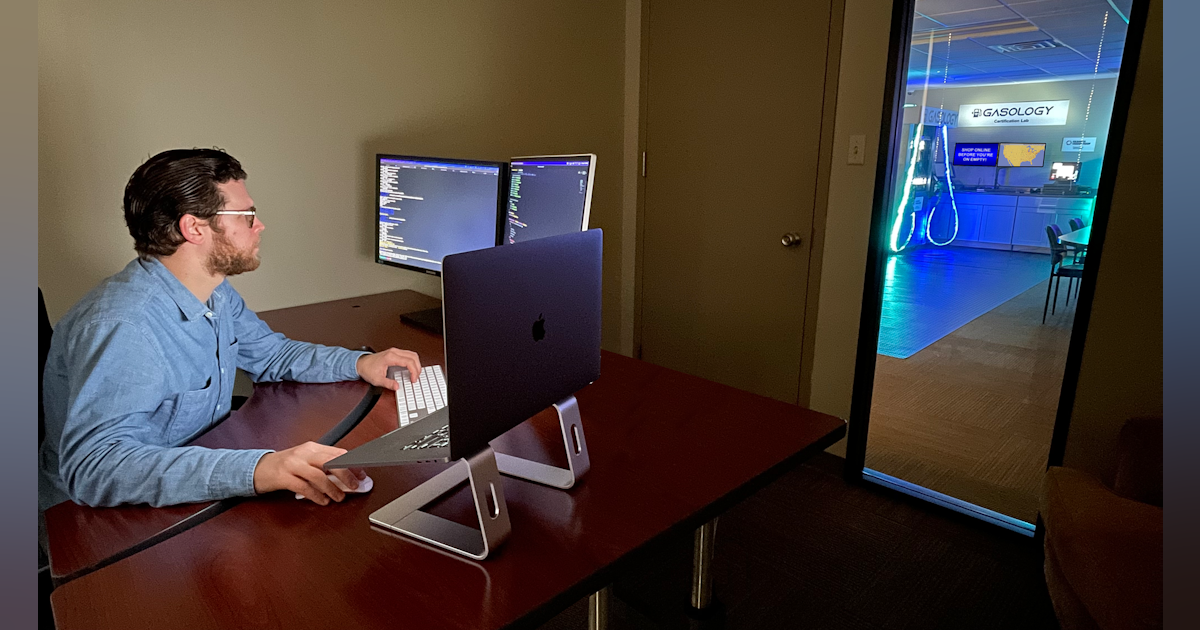 CEO Joe LeBlanc describes tech startup Gasology's motor fuels marketplace as the Travelocity of fuel purchasing, or Uber Eats of fuel delivery.
Those analogies are helpful, but don't fully capture the platform's expansive position.
To compare to Gasology's comprehensive connectivity within the fuel marketplace more closely, Travelocity would need to include, and empower, competing travel agencies, aircraft manufacturers and their suppliers, hotel construction firms, car dealerships, airport shuttles services and parking lots, drivers—and the list goes on.
"The story's hard to tell," LeBlanc conceded. "We encompass the entire marketplace for motor fuel, so we go from the people who make it, to the people who use it, and we're not accustomed to that scope of participation. So we often have difficulty explaining the platform's depth and breadth, because no one conceived it before."
"That's why we have a patent for it."
Securing a patent, granted last October, was the latest step in the Louisiana-based company's methodical approach to rolling out the transformative service LeBlanc first envisioned more than 20 years ago while trading energy commodities for major oil and gas companies like Shell, and honed as a professor at Tulane.
Their strategy started in the market's middle, onboarding fuel distributors like Atlas Oil and trucking companies with their own storage tanks, like Linden Bulk Transportation—the first tank truck carrier to look into Gasology. Now they're securing the oil producers and refiners, and fuel retailers, on both ends, with the ultimate goal of enabling individuals to buy fuel for delivery today, tomorrow, next month, or next year on their smart devices.
Gasology's challenges include maintaining an ideal balance of buyers and sellers, and overcoming reluctance of legacy stakeholders firmly entrenched in an outmoded supply chain LeBlanc insists is ripe for disruption.
"As we put technology into the space, we're seeing a lot of particular nuances, or operational components of the marketplace model, that are very antiquated, and in need of some fresh ideas," LeBlanc said.
And, whether everyone's ready or not, their all-inclusive future is coming.
Entering 2022, the marketplace already boasted more than 50 registered distributors delivering fuel in volume to approximately 500 fleet tank locations.
"The ability to purchase off one platform is of great interest," said Michael Salz, president of Linden, a subsidiary of Odyssey Logistics & Technology. "If this platform can do what it proposes, as seen in their demo, it could empower one person to handle all fuel purchases."
Lifetime achievement
LeBlanc, the subject of a Futures Magazine story back in 2011, has 37 years of exploration and production, and refinery experience in the energy industry. He was a commodity risk manager for The Louisiana Land and Exploration Company in the 1990s, before landing at Shell; and traded futures contracts for oil and gas on the New York Mercantile Exchange, now owned by the Chicago Mercantile Exchange (CME) Group, and Intercontinental Exchange (ICE), all for the benefit of major players at large oil companies and banks.
But after countless calls from smaller companies that wanted more fuel price choices to help them better manage their businesses in lean times, he began to wonder: If I can create markets for corporate traders to buy and sell bulk fuel for future periods, why not regular people? "We can purchase airline tickets and hotel rooms months into the future, rent someone's car, or buy a new or used car—all 100% online," he said.
"But we all must wait until our fuel gauge is on empty before shopping for motor fuel."
That makes less sense for fleet managers focused on reducing risk. Energy Information Agency data show diesel prices fluctuated dramatically over the last two years, making trucking's primary fuel one of the most volatile commodities in the world, so buying in bulk reduces risk. And just like airline tickets, gallons of fuel typically are cheaper the sooner they're bought, as reflected in recent diesel future settlements on the CME.
But to empower all consumers, the technology had to catch up. That finally happened with the emergence of smart phones, online trading, and most recently the development of a set of protocols and standards, through Conexxus, that allow technology to communicate with fuel pumps.
In the meantime, LeBlanc increased his technological savvy with several software firms, and by developing internationally recognized software tools and platforms used by students at Tulane to trade energy futures against live markets, without actually participating, and at one point, was part of the CME's Trading Knowledge Center.
Then, in 2017, he finally formed a well-connected team of energy traders and software developers, and launched his Gasology dream from New Orleans.
"The goal, if you are a consumer, whether you're a trucker, you're running a business, or for your personal life, is to be able to see prices at your gas station not just for now, but for tomorrow, next week, next month, and next year, and say 'I like that price,'" LeBlanc explained. "In March, I'm planning to visit a client, or I've got a trucking route, and now I can buy fuel for March at the location I want it, and go pick it up when I'm ready."
A cohesive construct
But how, exactly, does that work? The best explanation is in the newly granted patent: "A computerized system for transacting the purchase and sale of consumer motor fuels between motor fuel merchants and retail consumers through software on a mobile or desktop connected device for periods in the future through the simultaneous execution of multi-party, multi-layered contingent transactions and pricing algorithms to ensure that all inter-related motor fuel merchant transactions are simultaneously transacted upon a retail consumer purchase execution.
"Motor fuels include refined products such as gasoline and diesel fuel, renewable fuels (e.g. ethanol, biodiesel), natural gas (including liquified natural gas), jet fuel, and electricity."
Basically, it allows everyone in the fuel supply chain, including providers of biofuels and power for battery-electric vehicles, to make interrelated transactions reflected in real time in every participant's data. As LeBlanc points out, the key words are 'simultaneous' and 'contingent,' helping make Gasology's proprietary platform the only one with forward pricing that instantly calculates in delivery costs and taxes by location.
The cloud-based service is free for buyers to use, requiring no software downloads or subscriptions. Gasology generates income via a fee sellers pay only on fuels transacted for future periods, not for fuel bought for today. Users can customize models with pricing strategies best suited for their market position or strategy.
A powerful mapping feature, made possible by Gasology's in-depth research and brought to life by Mapbox, shows the locations of every refinery, blending terminal, loading rack, fleet tank, and truck stop in the U.S., and how they're all physically connected, for an eye-opening view of the entire fuel chain.
The marketplace features three components tailored for who is interfacing with the system: A business solutions application for fleets, a fuel merchants app for suppliers, and a mobile app for retail customers.
The first two already are in use.
"We built this for the sophisticated trading desk, but it's so simple even the most entry-level players can easily use it," LeBlanc said.
Business solutions
Trucking companies and other businesses, including those in the agricultural, aviation, construction, industrial, marine, and rail industries, can purchase bulk fuel for any tank container size or configuration. Fleets can input the types of vehicles and fuels they use, manage inventory, and reforecast for shifting needs.
"What's cool about this is everyone you're buying from is on the platform," LeBlanc said. "You're not leaving it to go do this. The other side is there, and you can allow people to see your inventory, so they know what you need."
Estes Express Lines, with more than 8,000 power units and $3.5 billion in revenue, was the first large fleet to adopt Gasology's marketplace when it was introduced in late 2020. Salz, who is on the National Tank Truck Carriers executive committee, was finalizing Linden's access as Bulk Transporter went to press. He's intent on feeling out the system for his 250 trucks, four storage tanks ranging from 10,000 to 12,000 gallons, and six locations.
Salz estimates he purchases 40,000 gallons of diesel fuel a month out of New Jersey alone.
"The idea of being able to buy in bulk, in a competitive environment, and for future periods, certainly is appealing," Salz said. "But we need to ensure our supply isn't impacted."
His concerns include how relationships with local suppliers factor into pricing, how quickly he can receive fuel purchased, and who's delivering when he's price shopping on one platform. "If I buy 7,500 gallons Thursday, because my tank's down to 4,000, when am I getting it delivered?" he wondered. "Am I getting it Friday? … So the delivery aspect is key. And the other side of that is, now I'm getting a new carrier into my facility that may not understand my tank, how to deliver to me, my traffic patterns, or where they're supposed to park.
"And if I'm buying on the platform, and shopping best price, am I getting a different carrier in every time?
"I don't know the answers to those questions, yet."
Merchants empowered
The supplier app is designed for refiners, wholesalers, distributors, and retailers, who can enter locations they sell from, and fuels available at each. Gasology also offers an "unlimited blending tool" that links refiners and distributors, and updates prices based on additives, blend percentages, transportation costs, and other adjustments; and allows sellers to make markets without buying or selling into the future.
Merchants can tweak pricing for pipeline, truck rack, or retail pump sales; and determine how they deliver and tailor prices for their customers.
Distributors currently on the platform include Offen Petroleum and the Colonial Group, both spotlighted by Bulk Transporter last year, Ports Petroleum, and Atlas Oil, which offers oilfield services and bulk delivery. "We were one of the earliest companies to roll out services on the platform," said Clint Werth, vice president of supply and logistics.
Werth said the marketplace is a "growing piece" of Atlas' business. "We're starting to see more throughput, as more and more companies get set up and start using it to move fuel in the marketplace," he said. For now, Atlas uses it only for diesel, but Werth said they're working on optimizing all their offerings on the platform. "It has different sets of parameters, so we're working through that, to give some optionality to customers to be able to look at prices in different ways, or for different time periods," he added.
One thing Atlas isn't concerned with, Werth said, is competition.
"Most customers already see other prices," he said. "They may see them in a different format, but most of these companies are looking at prices from multiple entities daily."
Fuel Carrier module
Fuel carriers soon will be able to offer their transport services directly to customers on Gasology's platform through a new Bulk Fuel Carrier module, LeBlanc said. The module will allow them to register every mode of fuel transport in the fleet, create calendars for availability, and rate profiles for each delivery type and region. "We own the future delivery-period marketplace for motor fuel," LeBlanc contended. "So why shouldn't we allow the delivery carriers to join in the offering of their future capacity?"  
As a result, he said, sellers and now buyers of fuel will be able to see available carrier capacity and its cost, and purchase as desired. And carriers can use a surge-pricing module to set variable rates based on urgency. "Buyers or sellers of fuel can allow carriers to participate, and know whether or not they've got availability," LeBlanc said. "And carriers can price accordingly, or see loads, know what's available, and pick the ones they want."
As it stands, LeBlanc said, if Linden or Estes need fuel, they call a distributor, who goes to their dispatcher or, if they don't have trucks, their carrier to see if they can help fill the order. "That system looks like a 1970s Danny DeVito Taxi scene to me," he said. "So we went into it with the idea of, 'Why can't we allow carriers to enter their availability?' Then it became, 'Why can't we let buyers and sellers see it,' and have these guys be able to put their rates in, and make themselves available to whoever wants to buy.
"And if you really need a load today … here's the rate."
Coming together
Gasology currently is onboarding oil suppliers, refiners, wholesalers, and truck stop and gas station retailers in advance of Phase II of its rollout. The debut of its mobile, or retail pump, app, expected in the second quarter, will enable fleets to buy fuel for over-the-road pickup by company or owner-operator drivers wherever needed.
"It's one of the largest untapped markets on the planet," LeBlanc said.
The marketplace benefits for fuel retailers will be boundless, he maintained. They include redefining loyalty programs and rendering fuel cards irrelevant, reducing risks currently inherent to fuel selling, the ability to set prices by location, and greater access to fuel suppliers who can keep their pumps operational in crises.
Newly empowered fleets are helping recruit their suppliers, LeBlanc said, and Gasology's pitching wholesalers and other still-reluctant adopters the opportunity to offer more prices, for periods into the future, and more services that allow them to "dramatically expand their current business and profitability" within the platform.
"There are a lot of inefficiencies in the middle, and the platform could cause some changes to occur in that, but that's expected of practically every marketplace that has experienced a technological innovation.
"But innovators will grow and prosper," LeBlanc said. "Ask Sears how an online catalog company (Amazon) put Sears (the original catalog company) out of business. Sears failed to recognize the change that was happening to its market."
Oil companies increasingly are requesting information, and Gasology is releasing two to three avatar environments weekly for test runs, LeBlanc said.
The company still is developing new features, like price-drop protection for the mobile app, and pursuing 15 international patents. Their mission is to help move a significant chunk of the 500 million gallons of fuel consumed daily in the U.S.
"Connectivity is what we're selling," LeBlanc concluded. "It's about the ability to link and connect with your customers and suppliers, and we want to do that through all the channels.
"So what we're planning for is a U.S. and North American growth strategy over the next two years, through the existing channels available today, and through the major players that are available today. And what's going to drive it is people who want choices being able to invite their current suppliers onto the platform."
https://www.bulktransporter.com/fleet-management/media-gallery/21214829/fuel-markets-reimagined-gasologys-newly-patented-technology-connects-empowers-entire-fuel-supply-chain